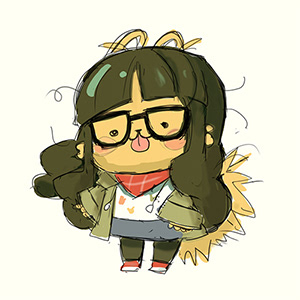 Hello, my name is Betty! I am an Illustrator and Concept Artist based in Vancouver, BC. Ever since I picked up a pencil, I couldn't stop drawing! Growing up, I watched many cartoons, films and played a lot video games which inspired me to create my own imaginary world and help others create theirs. I discovered the internet when I was twelve which exposed me to many amazing artists on the net. Because I was constantly surrounded by great art, I wanted to learn, so I started teaching myself how to draw digitally in 2003. After high school, I studied at Emily Carr University of Art and Design and received my BMA in Animation (2011). Currently, I work at DHX Studios as a Senior Designer! During my career, I had the pleasure of creating art for clients such as LEGO, Scopely, GREE Inc, & PBS Kids!
If you have any questions or comments,
 feel free to contact me at:
betty@bettykwong.com
★ 
Resume
PROFESSIONAL EXPERIENCE
​​​​​​​
DHX Studios
May 2018 – Present
>Senior Designer
LEGO Ninjago (Season 11)
• Concept and polish character art, props, vehicles, background sets.
IUGO Mobile Entertainment
Nov 2014 – May 2018
>Artist
The Walking Dead Road to Survival 
• Concept and polish character art, backgrounds.
• Helped with ui icons.

Knights and Dragons 
• Concept and polished armours/weapons/shields, pets, bosses, rings/amulets. 
• Illustrated splash screens, background and reusable assets.
• Helped with banners and icons.


Rival Schools Digital Agency
Aug 2012 – Nov 2014
>3D/Story Artist
Samsung Knox
• Prepared & reviewed assets to be used for AFX Animation.
• Animated assets & storyboarded according to given script.
• Designed an original art style & characters for the project.

PBS Kids: Dinosaur Train A-Z iOS App
• Prepared & reviewed assets to be used for Flash animation.
• Animated assets and assisted with animation direction.
• Play-tested app to ensure it is running correctly. Also checked and corrected consistency issues while testing.
• Assisted in creating word timing files in Audacity.

Bramble Berry Tales: Storybook App (RS's Original IP)
• Worked as the lead artist to create the app's overall art style.
• Created 2D & 3D concept art with feedback from art director.
• Storyboarded all three stories according to given script.
• 3D modeled/textured environments & props (Low Poly).
• Polished and cleaned up spread assets and illustrated backgrounds.
• Trained interns to familiarize with editing 3D assets & illustration to achieve the proper style and quality.
• Created promotional artwork and posted promo art on social media. 

Unirac
• 3D modeled small background elements.
• Cleaned up high poly 3D models to low poly.

• Created artwork and concepts for various pitches.


Freelance Artist
2008 – 2012
• Completed various types of commission in artwork and character design.
• Dealing with customer orders and completing them in a timely fashion.
• Selling personal prints, custom artwork and self-promotion at conventions.
Knowledge Kids: Campfire Tales & Forest Melodies Game (Rival Schools Contract)
• Illustrated, design, animated characters & environments based on Knowledge Kids's style sheets.
• Rewarded a performance bonus at the end of the project.
Vancouver Opera: Comics (Rival Schools Contract)
• Completed each story within a tight deadline to promote for Vancouver Opera's 2010, 2011 and 2012 features.
An9me Entertainment: BeetleMechs
• Created character concept sketches and turnarounds following directions and feedback from client.
EDUCATION
Emily Carr University of Art & Design
2007 – 2011
Bachelor of Media Arts, Animation